Easy and reliable magic free partition tool for Windows 7 and Windows 8
Magic partition manager for Windows 7/Windows 8 - EaseUS Partition Master
After a long time of computer using, you may encounter many problems. The typical one is that there is not enough space for the system partition, which may cause your computer suffering a big risk of data loss and low work efficiency. To enlarge the system partition is the way to solve this problem. Although Windows 7 Disk Management has the ability to shrink/expand the partition, there are also many limitations to resize Windows 7 partition. EaseUS Partition Master is a practical partition manager which can help you to resize partition under windows 7.
Windows 7 release information
"When we asked what you wanted in a PC, you told us to make it simpler and easier to use. We listened. And we built Windows 7 to make your PC simpler and the things you do every day easier." Microsoft said on their Windows 7 website. Windows 7 is the latest operating system version of Microsoft Windows for being used on personal computers. Unlike its predecessor, Windows 7 introduced a large number of new features in order to release a useful operating system which is easy to use. And after trying Windows 7, most people give it a high evaluation of its compatibility and new features. But some of them are not comprehensive to reach customers' demand. There are also many limitations, such as the function of partition manager is not complete on Windows 7, therefore the outstanding third-party software is necessary.
Free partition manager for Windows 7 and Windows 8
EaseUS Partition Master enables you to partition Windows 7 or Windows 8 easily and reliably. With it, you can perform all kinds of partition operations in Windows 7 and Windows 8. As an outstanding free partition manager, EaseUS Partition Master Free can perfectly manage hard drive partitions with numerous functions provided, such as Resize/Move Partition, Copy Partition, Convert Dynamic Disk to Basic Disk, Merge Partitions, Split Partition, Hide/Unhide Partition, Explore Partition, merge partitions and much more. Resize/Move Partition is its core function that is designed to resize your partitions. Although Windows 7 Disk Management has the ability to shrink/expand the partition, you could only resize NTFS partition, other than FAT partition. What's more, if there is no free space on the right of this partition, you cannot extend. However, EaseUS Partition Master can help you resize partition freely and extend NTFS system partition without reboot.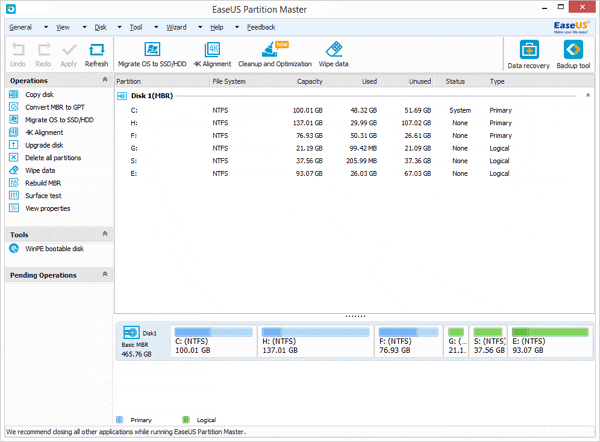 More features of this free partition manager
Related Articles:
Feedback on this article:
Thanks for visiting EaseUS, please let us know how we can improve this article or make it more useful to you. Should you need technical support please feel free to contact support@partition-tool.com.